Vascular Technologist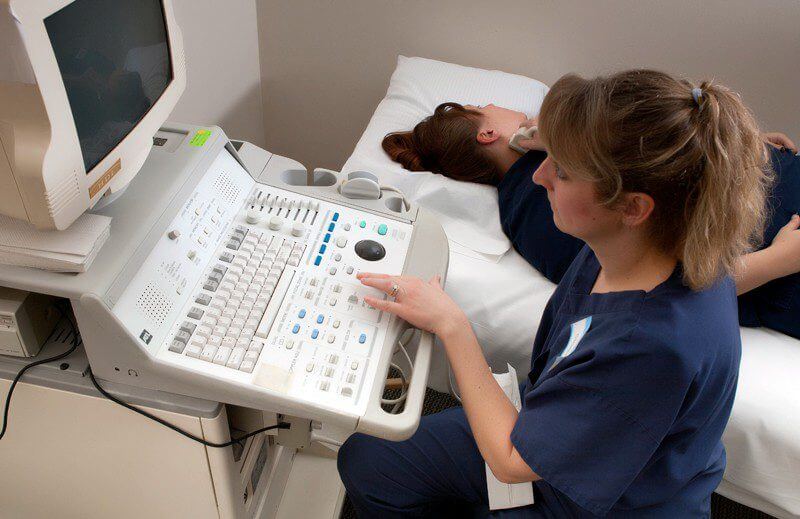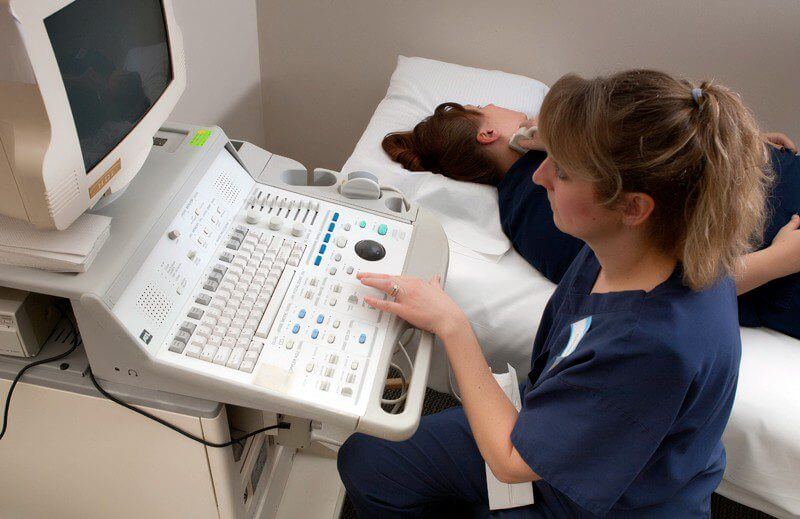 Vascular Technology students are trained in the performance of non-invasive testing procedures. These studies provide essential information regarding the blood supply to and from the tissues of the extremities and the vital organs of the body, and the degree and character of any obstruction. Non-invasive vascular testing and diagnostic imaging can be a critical element in the diagnosis of cardiovascular disease, neurological disorders, complications related to diabetes, and in the treatment and prevention of stroke.
The core curriculum includes the study of human anatomy and physiology, basic electrocardiology and electrocardiography, pathology, hemodynamics, pharmacology as applied to the cardiac and vascular systems, ultrasound physics, cardiopulmonary resuscitation, vital signs, and IV administration.
Students will be able to demonstrate an understanding of the principles related to diagnostic ultrasound and Doppler testing procedures. Emphasis is placed on obtaining standard views of vascular structures and to accurately provide preliminary interpretation of arterial, venous, and carotid artery imaging and blood flow.
The clinical/externship rotation is an integral part of the training program. Eligible students are assigned to school-approved clinical site by the Program Director. Students will maintain this rotation until all required hours have been successfully completed within the allotted time frame. Site visits to hospitals are conducted on a regular basis by school clinical site coordinator to assess the satisfactory progress of the student.
Due to the technical nature of this program, a minimum of an associate degree is required. In addition, students must have prior allied health training, recent clinical work experience and college credits in anatomy & physiology, math, and science.
Upon successful completion of the Vascular Technologist Program, students will be able to perform standard, non-invasive vascular diagnostic testing, demonstrate a working knowledge of the principles and instrumentation of vascular equipment and utilize the appropriate testing protocol.
Vascular Technologists are employed in hospitals, health centers and specialty clinics. Responsible career entry-level positions with opportunities for advancement await the competent, credentialed professional.
Publication of Outcome Results
In accordance with CAAHEP, JRC-CVT Standards, schools are required to publish outcome results for the following programs: Invasive Cardiovascular Technologist, Vascular Technologist, and Cardiovascular Technologist.
This is a 3 year average for the Vascular Technologist Program outcomes in the national credentialing pass rate, retention, and positive placement for 2017, 2016, and 2015. Published results are consistent with and verified by the Annual Report of each program.
Average Rate of Graduates who successfully pass the RVT national credentialing through ARDMS or the RVS national examination through CCI: 100%.
Average Retention Rate: 82.76%
Average Positive Placement Rate: 79.17%
Textbooks & Reference Manuals
| Publisher | Title | Author | ISBN | Price |
| --- | --- | --- | --- | --- |
| Lippincott | ECG Workout Book | Huff | 978-1-4511-1553-6 | $47.95 |
| Elsevier | Drugs for the Heart | Opie | 978-1-4557-3322-4 | $74.95 |
| Elsevier | Anatomy & Physiology, 9th Edition | Patton/Thibodeau | 978-0-3232-9883-4 | $123.50 |
| Elsevier | Introduction to Vascular Ultrasound | Pellerito | 978-1-4377-1417-3 | $129.00 |
| Davies Publishing | Vascular Technology | McPharlin | 978-0-9410-2285-9 | $89.95 |
| E.S.P. | Ultrasound Physics | Edelman | 0-9626444-5-5 | $112.00 |
| American Heart Association | BLS for HC Providers | AHA | 978-1-61669-039-7 | $12.00 |