Massage Therapy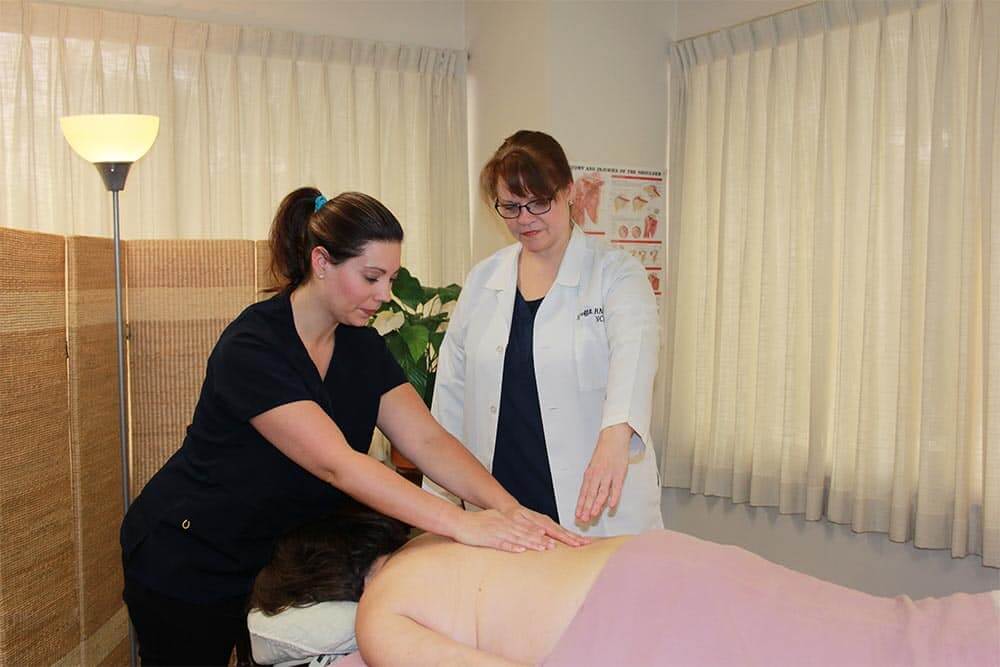 Massage Therapy
The profession of Massage Therapy and Bodywork offers a variety of career possibilities for the motivated and well-trained individual. Massage therapy is a valuable tool in the treatment of stress-related disorders, general relaxation, and injuries to soft tissues.
Therapeutic massage combines the energy of touch with the knowledge of
Anatomy and physiology, pathology
client assessment
effective communication
general wellness education
promotion of healthy living.
The Therapist will be able to integrate fundamental science concepts with practical application in the delivery of quality therapeutic massage.
Principles of anatomy, physiology and kinesiology provide the student with a strong foundation required to be successful in the practice of therapeutic body massage. Clinical pathology explores the most common diseases, symptoms, and alternative medical treatments as they apply to massage therapy.
This program emphasizes the correct application of body mechanics by both client and practitioner, the correct use of massage therapy equipment and the creation of a safe therapeutic massage environment. The program maintains a low student-teacher ratio during theory and practical application.
Special emphasis is placed on legal and ethical principles, professional standards and business practices required in this profession.
Participation in our Student Massage Therapy Clinic offers massages to the general public. Student massages are performed under the direct supervision of an instructor. This opportunity provides the student with valuable hands-on experience to refine skills learned in the classroom.
Steps to get licensed
The State of Michigan requires all massage therapists to be licensed. Graduates of this Program at Carnegie Institute will be eligible to take the MBLEx, the recognized examination for licensure for the State of Michigan and submit a formal application to the State of Michigan.
For additional details and application, please visit Michigan Department of Licensing and Regulatory Affairs, Bureau of Health Care Services, Board of Massage Therapy, PO Box 30670, Lansing, MI 48909, 517.335.0918.
Career Placement
Entry level Massage Therapists may be employed under the supervision of a physician or chiropractor, physical therapy facilities, health and fitness industry, sports/athletic organizations, and assisted living facilities & nursing homes. Establishing a private practice is also a viable option.
Other Programs Carnegie Offers:
Textbooks & Reference Manuals
| Publisher | Title | Author | ISBN | Price |
| --- | --- | --- | --- | --- |
| Elsevier | The A & P Learning System | Applegate | 978-1-4377-0393-1 | $62.90 |
| Elsevier | Pathology for Massage Therapy | Salvo | 978-0-323-08472-7 | $77.95 |
| Elsevier | Fundamentals of Therapeutic Massage | Fritz | 978-0-3230-7740-8 | $90.25 |
| Books of Discovery | Flash Cards - Volume 1 | Biel | 978-0-9829786-7-2 | $21.95 |
| Books of Discovery | Flash Cards - Volume 2 | Biel | 978-0-9829786-8-9 | $21.95 |