Cardiac Electrophysiology Technologist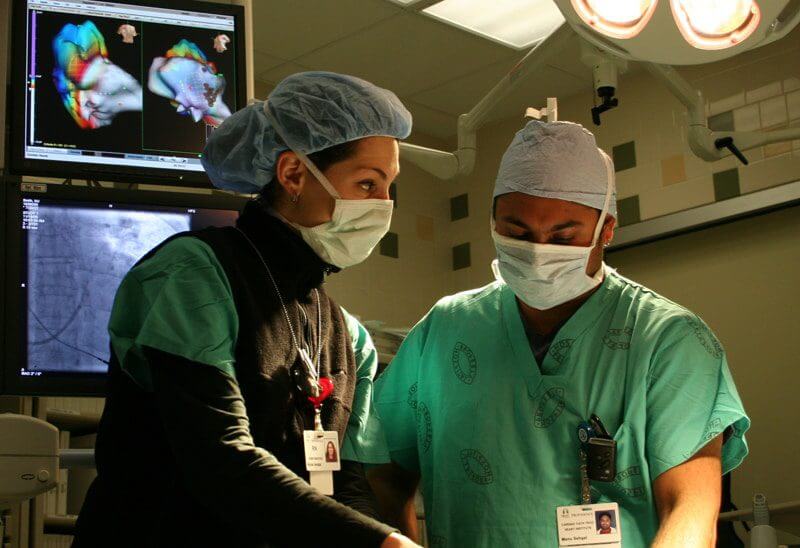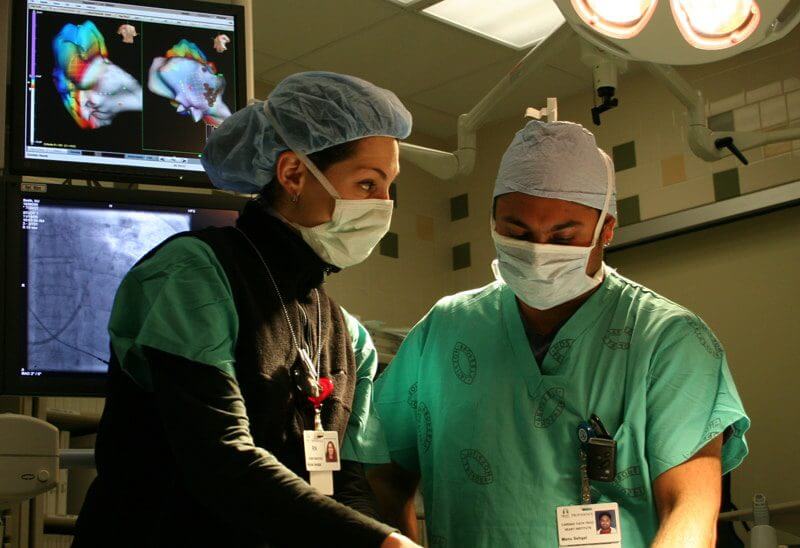 The Cardiac Electrophysiology Technologist student is trained to recognize normal and abnormal 12-lead electrocardiograms and interpret recordings as they relate to heart disease such as bradyarrhythmias, tachyarrhythmias, heart block, chamber enlargement and myocardial infarction. Student will learn the standard protocols utilized during an electrophysiology study and the procedures related to cardiac EP catheter placement when an arrhythmia is induced or during a spontaneous occurrence.
The core courses in the Cardiac Electrophysiology Technologist Program include anatomy, physiology & pathology, basic and advanced electrocardiography, physics, pharmacology, IV administration, and vital signs.
As the student progresses through the specialized courses in Cardiac EP, focus is placed on sterile technique and radiation safety, cardiac pathology, basic hemodynamics, cardiac pharmacology, and advanced ECG which concentrates on lethal arrhythmia recognition and intervention. In addition, principles of cardiac electrophysiology, pacemakers, and implantable cardioverter defibrillators are thoroughly reviewed to reinforce the understanding of cardiac rhythm and arrhythmias. Special attention is given to monitoring systems, measurement of intervals, mapping and navigational systems, ablation techniques and tilt table testing. Student will learn to identify atrial and ventricular study components, programmed electrical stimulation, sinus node recovery time, measurement of intervals and catheter location during this program. Advanced Cardiac Life Support (ACLS) is presented according to the guidelines of the American Heart Association.
The off-campus clinical rotation is an integral part of the training program. Student is assigned to a school-approved clinical site by the Program Director. Students will maintain this rotation until all required hours have been successfully completed within the allotted time frame. Site visits to hospitals are conducted on a regular basis by school clinical site coordinator to assess the satisfactory progress of the student.
Due to the technical nature of this program, students must have prior allied health training, recent clinical work experience and college credits in anatomy & physiology, math, and science.
The knowledge and skills acquired in this program prepare students for responsible career entry positions with advancement opportunities in hospitals and other related healthcare facilities. There is a widespread demand for competent, credentialed Cardiac Electrophysiology Technologists.
Textbooks & Reference Manuals
| Publisher | Title | Author | ISBN | Price |
| --- | --- | --- | --- | --- |
| Lippincott | ECG Workout Book | Huff | 978-1-4511-1553-6 | $47.95 |
| Elsevier | Drugs for the Heart | Opie | 978-1-4557-3322-4 | $74.95 |
| Elsevier | Anatomy & Physiology, 9th Edition | Patton/Thibodeau | 978-0-3232-9883-4 | $123.50 |
| Blackwell Science | Electrophysiologic Testing | Fogros | 978-0-4706-7423-9 | $64.00 |
| Blackwell Science | Cardiac Pacing and ICD's | Ellenbogen | 978-1-1184-5951-5 | $79.95 |
| Elsevier | Netter's Cardiology | Runge | 978-1-4377-0637-6 | $99.95 |
| American Heart Association | ACLS | Woodson Education | | $250.00 |
| American Heart Association | BLS for HC Providers | AHA | 978-1-61669-039-7 | $12.00 |