Cardiology Technician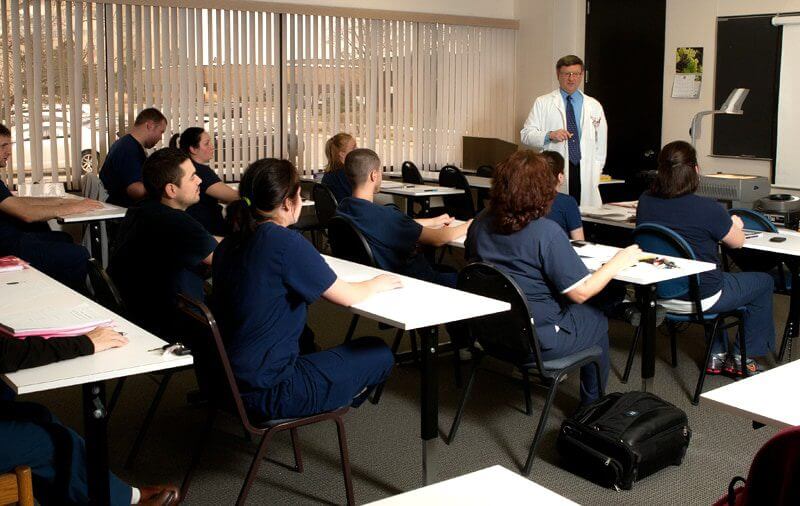 Cardiology Technician students are trained in the performance of non-invasive testing (ECG) procedures which provide valuable recorded data utilized in cardiac medical evaluation.
Training emphasizes basic and advanced electrocardiology and electrocardiography. Ample ECG equipment is utilized to provide extensive hands-on training.
Class size is limited to assure close supervision during classroom and practical application of various procedures.
The core curriculum includes:
Anatomy & Physiology/Pathophysiology
Therapeutic Communications/HIPAA
Basic ECG (EKG) waveform morphology
Advanced ECG (EKG) waveform morphology
Abnormal ECG (EKG) Rhythms/Arrhythmias
Cardiovascular Pharmacology
CPR
Ultrasound Physics
Vital Signs
IV Administration
Patient Assessment
Basic medical electronics & instrumentation
This program also provides an understanding of:
Diagnostic and therapeutic procedures in ECG
Exercise stress testing and pacemaker rhythm recognition
Competence in the recognition & interpretation of abnormal ECG (EKG) rhythms.
Due to the technical nature of this program, students must have prior allied health training, recent clinical work experience and college credits in anatomy & physiology, math and science.
Externship
The externship component is an integral part of the Carnegie CT training program. Eligible students are assigned to school-approved clinical sites by the Program Director. Students will maintain this rotation until all required hours have been successfully completed within the allotted time frame.
Career Placement
The knowledge and skills acquired prepare students for responsible career entry level positions as a Cardiology Technician in the areas of telemetry, Holter scanning and exercise stress testing. There is a critical demand for competent Cardiology Technicians in hospitals, clinics, diagnostic centers and doctor's offices.
Other Programs Carnegie Offers:
Textbooks & Reference Manuals
| Publisher | Title | Author | ISBN | Price |
| --- | --- | --- | --- | --- |
| Lippincott | ECG Workout Book | Huff | 978-1-4511-1553-6 | $52.79 |
| Elsevier | Drugs for the Heart | Opie | 978-1-4557-3322-4 | $74.95 |
| Elsevier | Anatomy & Physiology | Patton | 978-0-3232-9883-4 | $149.25 |
| Carnegie Institute | Arrhythmia Interpretation | Carnegie Institute | | $8.01 |